Send Inquiry
Mould Clamps
Product Code : 07
Brand Name : GURU NANAK ENTERPRISES
Being a prominent Manufacturer, Exporter & Supplier in the industry, we present a wide range of Mould Clamps to our customers. The quality we offer is unmatched. We take special care of quality by testing them against the highest parameters of quality set by the industry. We provide them in safe packaging at affordable rates. We also deliver at your doorstep at your ease owing to our first-rate distribution system.
Features/ Uses
Useful for clamping of moulds on plastic injections moulding machines and pressure die casting machines and other low height clampings on presses etc.

Front portion of the clamp holds the mould.

No spacer packings are required at the rear of the lamp since the body is self positioning.

Special swivel washer rests on the curved grooves and the centre distance is easisly set. Flange nut is tightened on the special washer.

Supplied complete with Studes/ T-bolts/Swivel washer, Flange nut.
Graph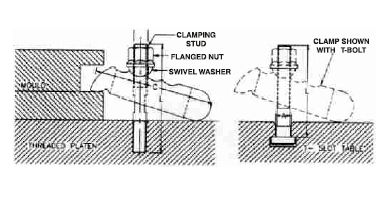 For Plastic Injection Moulding & Pressure Die Casting Machine With Clamping Stud & Flanged Nut
| | | | | |
| --- | --- | --- | --- | --- |
| Item Code | Model | Stud | Clamping Range | Clamp Size |
| 10210 | PMC-12S | PCSB 12 100 | 0-35 | 115 x 50 |
| 10202 | PMC-16S | PCSB 16 125 | 0-40 | 135 x 60 |
| 10203 | PMC-20S | PCSB 20 175 | 0-50 | 160 x 70 |
With -Bolt & Flanged Nut
| | | | | | |
| --- | --- | --- | --- | --- | --- |
| Item Code | Model | T-Slot Size | T-Bolt | Clamping Range B | Clamp Size |
| 10211 | PMC-12T | 12 | PTB 12 12 100 | 0-35 | 110x50 |
| 10213 | PMC-12T | 12 | PTB 12 14 100 | 0-35 | 110X50 |
| 10213 | PMC-16T | 16 | PTB 16 16 130 | 0-40 | 135x60 |
| 10214 | PMC-18T | 18 | PTB 16 18 130 | 0-40 | 135x60 |
| 10215 | PMC-20T | 20 | PTB 20 20 150 | 0-50 | 160x70 |
| 10216 | PMC-22T | 22 | PTB 20 22 150 | 0-50 | 160x70 |
| 10217 | PMC-24T | 24 | PTB 24 24 210 | 0-60 | 180x80 |
| 10218 | PMC-28T | 28 | PTB 24 28 210 | 0-60 | 180x80 |